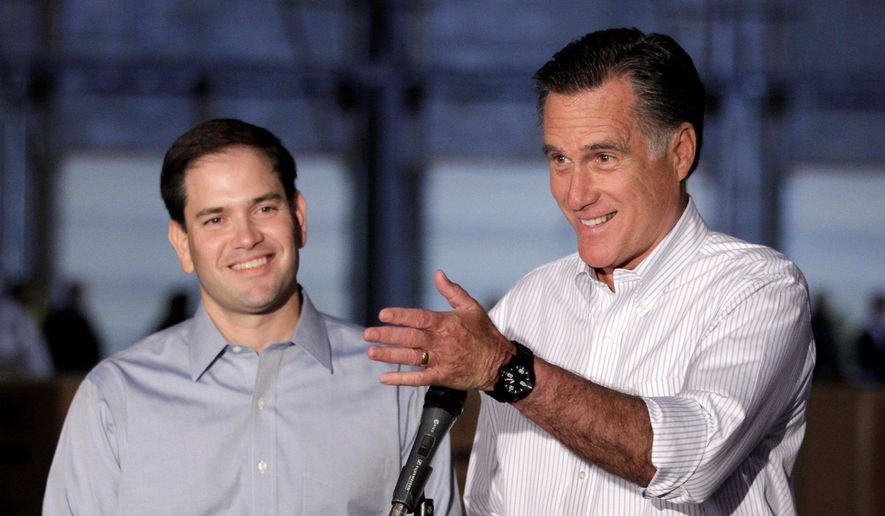 Marco Rubio and Mitt Romney by AP
This may be the worst thing to happen to the Rubio campaign.
Although I like him, Rubio has shown a propensity to be politically expedient.

There will be assurances the GOP establishment will want from Rubio for their backing.

That may fatally injure him in the eyes of

primary voters who have a heavy mistrust of the establishment for well documented reasons.
HuffingtonPost reports in a major development in the Republican presidential race, 2012 GOP nominee Mitt Romney will endorse Sen. Marco Rubio (R-Fla.) for president, The Huffington Post has learned from two Republican sources.




Details of Romney's endorsement were still being worked out as of Sunday morning. The sources said that the former Massachusetts governor had been eager to provide his backing to Rubio for days but had hesitated, due to his respect for former Florida Gov. Jeb Bush (R), who suspended his campaign on Saturday night following his dismal fourth-place showing in the South Carolina primary.




Romney spent the day in Utah on Saturday and could potentially be in position to bestow his blessing upon Rubio before Tuesday's Nevada Republican caucuses--a contest that Romney won easily in both 2008 and 2012.