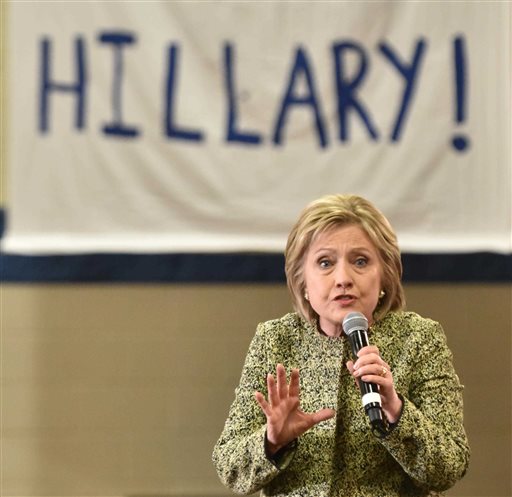 AP
No, no, no this isn't big news you see.
It's not really a story that the front runner for the Democrat nomination for president, Hillary Clinton, is currently under CRIMINAL investigation by the FBI.

She calls it a security review.

This is the FBI, not ADT, they don't do security reviews.

The FBI investigates crime, period!

But, hey, look at what Donald Trump just said!
WashingtonFree Beacon reports Hillary Clinton will be interviewed by FBI Director James Comey in the coming days as investigators decide whether or not to file criminal charges over her private email server, Al Jazeera America reported Wednesday.




In a clip flagged by Mediaite, Al Jazeera reported that the FBI had finished its probe of the Democratic frontrunner's server that she used as secretary of state.




"After nearly a year-long investigation, sources tell us that federal investigators are close to a decision about whether to seek criminal charges," reporter David Shuster said.




While Hillary Clinton fights for the Democratic presidential nomination, law enforcement officials tell Al Jazeera America the Federal Investigation into her personal email system while she was Secretary of State has reached a critical stage.




The FBI, led by Director James Comey, has now finished examining Clinton's private emails and home server. And the sources add that Comey's FBI team has been joined by the Justice Department prosecutors. Together, they are now examining the evidence, analyzing relevant laws, and attempting to arrange interviews with key figures in the investigation.




Those interviews, according to attorneys, will include former State Department aides Philippe Reines, Former Clinton Chief of Staff Cheryl Mills, and Clinton herself.

Soon after those interviews — in the next few days and weeks — officials expect Director Comey to make his recommendation to Attorney General Loretta Lynch about potential criminal charges.