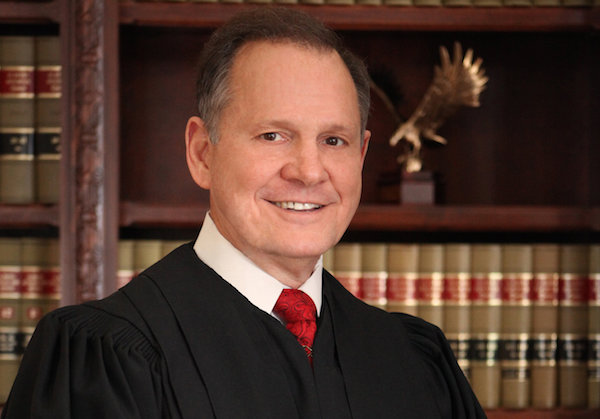 All you need to know among all the claptrap uttered by radical activists, is that Chief Justice Moore is standing firm for traditional values that have existed in the world for thousands of years.
The concept of Gay marriage is less than 30 years old.

It's relatively new phenomenon and like so many things associated with Liberalism, it's misrepresented as a cause for seeking marriage equality.

Gay marriage has nothing to do with equality.

That's a complete falsehood!

Their goal has always been to change the definition of marriage and incrementally destroy religion using Gay rights as a bludgeon to accomplish both.



NY Times reports an Alabama judicial oversight body on Friday filed a formal complaint against Roy S. Moore, the chief justice of the state's Supreme Court, charging that he had "flagrantly disregarded and abused his authority" in ordering the state's probate judges to refuse applications for marriage licenses by same-sex couples.




As a result of the charges, Chief Justice Moore, 69, has been immediately suspended from the bench and is facing a potential hearing before the state's Court of the Judiciary, a panel of judges, lawyers and other appointees. Among possible outcomes at such a hearing would be his removal from office.




"We intend to fight this agenda vigorously and expect to prevail," Chief Justice Moore said in a statement, saying that the Judicial Inquiry Commission, which filed the complaint, had no authority over the charges at issue.




Referring to a transgender activist in Alabama, Chief Justice Moore said the commission had "chosen to listen to people like Ambrosia Starling, a professed transvestite, and other gay, lesbian and bisexual individuals, as well as organizations which support their agenda."

It is the second complaint lodged by the state's Judicial Inquiry Commission against the judge. In 2003, he was ousted by the same body from his position as chief justice after disobeying a federal court order to remove a two-ton monument of the Ten Commandments that he had installed in the rotunda of the state judicial building.
Unfortunately, we don't have enough Roy Moore's in this country to beat back the social rot destroying our country.