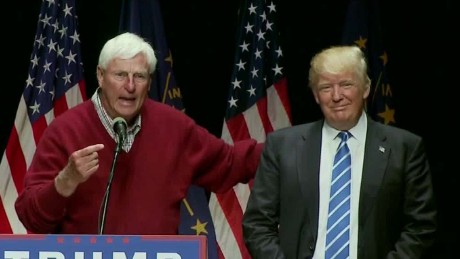 I think this is a brilliant move.

Nobody is gonna get excited to hear from Paul Ryan or Mitch McConnell.
Bloomberg reports ESPN has nothing on this summer's Republican national convention.




Donald Trump's campaign aides are lining up a slate of iconic sports figures to appear at the national convention in Cleveland next month—including former undisputed world heavyweight champion Mike Tyson, legendary Chicago Bears coach Mike Ditka, former Indiana University basketball coach Bobby Knight and NASCAR chief Brian France, people familiar with the planning told Bloomberg Politics.




Talks are in the works with a broad slate of other celebrities and top athletes, so the list of those appearing at the convention will grow, organizers said.




But much of Trump's current list of sports champs seems to be more targeted at male voters age 45 and older, rather than minority and female voters.




Trump has boasted in the past about his endorsement by Tyson, who has re-emerged in popular culture in recent years with roles in popular movies like "Hangover" and the publishing of a well-received memoir.




"Mike Tyson endorsed me, I love it," Trump said in April in Indiana. "You know, all the tough guys endorse me. I like that."




Following the Indiana rally, Trump was criticized for touting the endorsement of the former boxer who had served three years in prison after being convicted in the state for raping a beauty pageant contestant.




The sports stars' specific roles at the convention have not yet been finalized, and it is unclear whether they will speak on stage to delegates and television cameras. Representatives of those lined up to appear did not immediately respond to requests for comment.