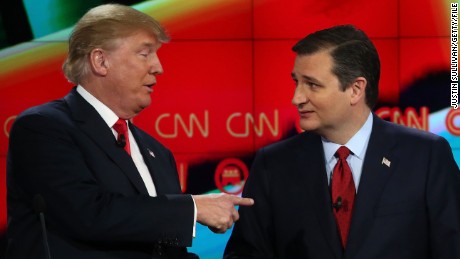 I really have to question Ted Cruz maturity at this point.
After a hotly contested primary in 1976 Ronald Reagan endorsed Gerald Ford.

It was the right thing to do for the party and it worked out pretty well for Reagan in 1980.

But, Cruz insists on acting like a baby instead falling in line and positioning himself to take over after a Trump presidency.

That's apparently too much acting like an adult for Cruz.

Time to grow up, Ted!
DallasMorning News reports Donald Trump has issued Ted Cruz an ultimatum: Endorse me or forget about giving a speech at July's Republican convention.




The presumptive Republican nominee told The New York Times that he was getting out in front of potential convention insurrectionists. He said: "If there's no endorsement, then I would not invite them to speak."




That puts Cruz in a tough situation. He's essentially the runner-up to Trump in the Republican race, going into the convention with 559 loyal delegates.




A speaking slot at the convention would give him the opportunity to pay tribute to his supporters, tout his impressive but unsuccessful campaign and set himself up for another run for the White House in four or eight years.




History is full of second-place finishers tipping their cap to the eventual nominee. In 1976, after a bruising fight for the GOP nomination, Ronald Reagan conceded and endorsed President Gerald Ford. He later spoke at the gathering in Kansas City, thrilling his supporters and laying the foundation for his successful 1980 presidential bid.