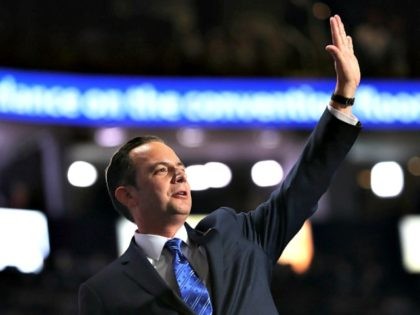 Don't fall for the lies by the corrupt media machine that is doing nothing but propaganda to trick voters that the race between Donald Trump and Crooked Hillary is already over in August.
That's a bunch of pure bullshit!
Breitbart reports Republican National Committee (RNC) Chairman Reince Priebus fired up more than 7,000 people before introducing Donald Trump at his campaign rally in Erie, Pennsylvania on Friday afternoon, showing the Republican Party is united behind its nominee.

"We're so honored to be working with Donald Trump and the campaign," he told the packed crowd inside the Erie Insurance Arena, saying the eight to nine thousand gathered to hear Trump was "unbelievable."




"We just had a great poll that came out," he touted, referencing a new LA Times poll that shows Hillary Clinton and Trump neck and neck, adding that it's a "tied election in spite of the biased media."

"Don't believe the garbage you read," he added. "Donald Trump, the Republican Party, all of you — we're going to put him in the White House and save this country together!"



The reason the Left is so scared is because they probably know the support for Trump is immense.