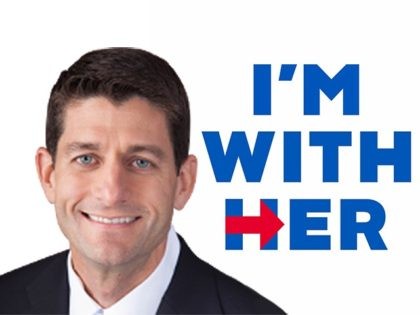 I have run out of words to describe Paul Ryan.
He's a coward, feckless, a wimp, spineless, and a Trump saboteur to boot.

He's also the perfect example of what the Republican Party stands for today.

Nothing!
Breitbart reports Donald Trump made headlines this week when he questioned whether Republican House Speaker Paul Ryan wanted him to prevail over Democratic nominee Hillary Clinton.

"Maybe not," Trump told Good Morning America on Tuesday. "Because maybe he wants to run in four years… or maybe he doesn't know how to win. I mean, who can really know?" Trump said.



The view that Ryan "doesn't know how to win,"

however, neglects the reality that both Ryan and Clinton share a progressive, globalist worldview, which is at odds with Trump's "America first" approach. Indeed, both Clinton and Ryan have said that they see themselves as representatives not only for American citizens, but also for foreign nationals and foreign interests. This view that the needs of foreign citizens are equal to the needs of American citizens reflects the belief that Americans are only part of many interest groups that a lawmaker ought to consider when crafting legislation—even as he or she negotiates with other countries, which always put their citizens first.