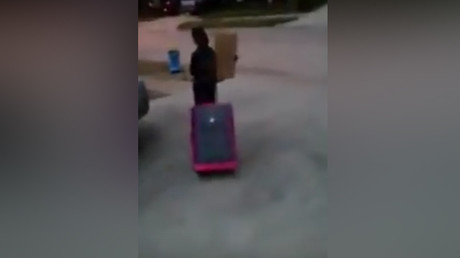 I've been saying for years that Blacks and Latinos are socialized to vote only Democrat.
And this video is a concrete example on how it is done.

What's

happening in this video IS NOT an isolated incident.

It's been happening in minority homes in way or another for over 50 years!
Fox News reports a disturbing viral video of a mom kicking her 7-year-old son out of the house for voting for Donald Trump in a mock election at school has prompted Texas authorities to investigate the woman for child abuse.

"Since you voted for Trump, you can get your s—t and get out," the woman is heard saying to the boy as she records the video on a cellphone. As of Friday the video had been shared more than 200,000 times, sparking outrage and demands that she be locked up. "Uh, uh, the suitcase is packed by the door."

The boy bawls uncontrollably as he's shown to the door with the suitcase and a handmade sign that says, "My mom kicked me out because I voted for Donald Trump."

"Bye Donald Trump lover," she is heard saying.