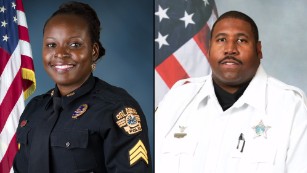 CNN reports hundreds of law enforcement officers were scouring Orlando early Tuesday for a man suspected of fatally shooting a police officer outside a Walmart.




The suspect fled, triggering an intense manhunt that included door-to-door searches in apartment complexes and the placing of a dozen schools on lockdown.




Another officer died while taking part in the search for the gunman. The Orange County sheriff's deputy died when his motorcycle collided with another vehicle.




Orlando tragedy: Two officers remembered




After the deaths of two law enforcement officers in one day, Orlando Police Chief John Mina vowed to find the suspect -- who has been identified as Markeith Loyd.




"I'm confident we will find him," Mina said. "It doesn't matter where he is. We will track him down to the ends of the Earth to find him."




"To lose two law enforcement officers on this Law Enforcement Officer Appreciation Day is indeed a tragedy," Orange County Sheriff Jerry Demings said.




Loyd also is wanted in the killing of a pregnant woman in December, Mina said.