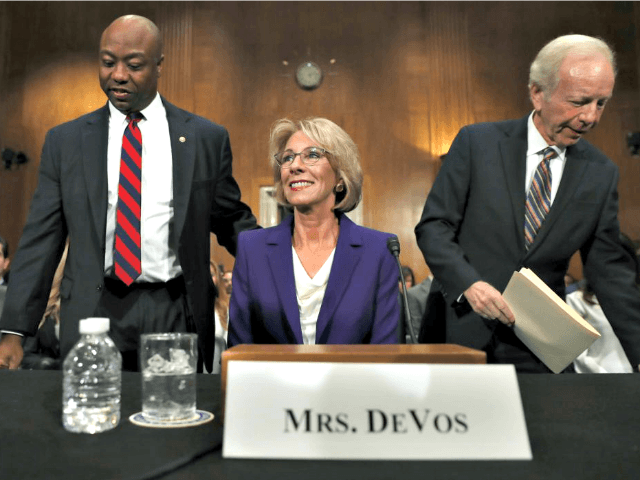 Betsy DeVos is exactly the right person to break the chains Democrats have on the public school system that keeps Black and Latino children hopelessly locked in failing schools for over 50 years, by design!
Breitbart reports Vice President Mike Pence cast an historic deciding vote Tuesday to confirm Betsy DeVos as the next secretary of the U.S. Department of Education.
Pence's vote was in accordance with his post as president of the Senate. The Senate vote was 50-50, with two Republicans, Sens. Susan Collins (ME) and Lisa Murkowski (AK), voting against DeVos.




As Fox News notes, Pence's vote "marked the first time in American history a vice president has broken a tie on a Cabinet nominee's Senate confirmation – and the first tie-breaking vote by a VP since 2008."




"The Senate being equally divided, the vice president votes in the affirmative, and the nomination is confirmed," Pence said in the Senate.




DeVos has been one of the most controversial picks for President Donald Trump's cabinet. Objections to her nomination have come from both the left, including teachers' unions, and the grassroots base of the GOP who want to see the federal education department dismantled and oversight of education turned back to parents and local school districts.